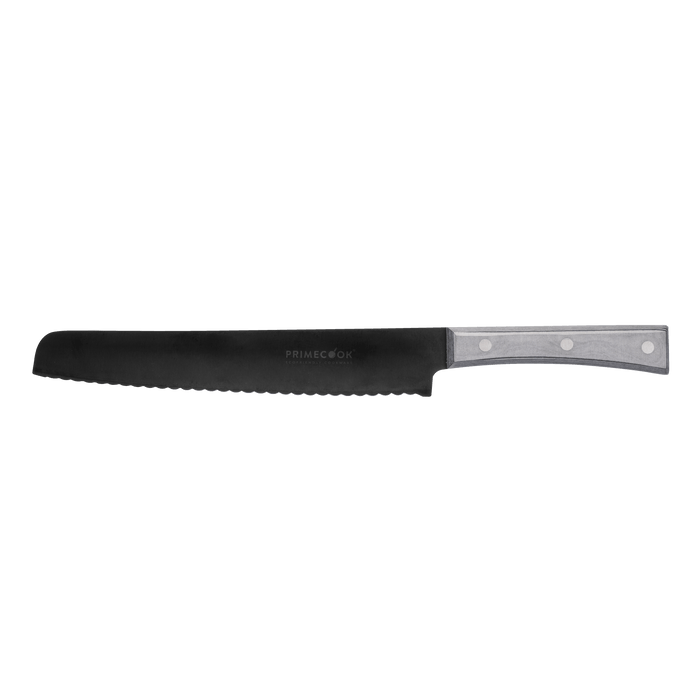 Professional bread knife 23 cm (9 Inch)
100% Made in Italy
handcrafted product
Special TITAN-ECOSHIELD
coating totally hypoallergenic
Excellent
cut resistance
Elegant handle
in Paperstone®
Ergonomic
safe grip
Easy cleaning
even in the long run
High quality stainless steel bread knife 23 cm handcrafted in Italy. The blade is coated with the special TITAN-ECOSHIELD coating, and its medium length makes this knife ideal for both professional and home use. The slightly arched shape and the chamfer in the final part guarantee anextremely easy and safe cutting experience, reducing the risk of damage to the surfaces. True excellence in the Italian cutlery market, it is equipped with a Paperstone® handle, a patented material composed of natural resins, paper and recycled cardboard and a new trend for the creation of hygienic surfaces in the healthcare and furniture sector.
This knife is perfect for cutting not only any type of bread with a soft surface/crust, but also for bakery products that, thanks to the particular reverse cutting edge, allows precise and clean cutting without tearing.
Great for cutting panettone and colomba.
NICKEL FREE

NSF CERTIFIED

The knife will come in a elegant gift box.


Use and maintenance
We recommend the use of each item exclusively for the purposes for which it was built. Use for other purposes and other types of work can seriously damage the product.
Go to Use and Maintenance.

ORDERS AND ASSISTANCE

+39 030 8901380

+39 3248926247
support@prime-cook.it
Free Shipping in Italy from 90 €
10€ in Europa in 24/48